Painting as a medium is my first love and my inspiration to be an artist. I began painting with acrylics in 2013 and eventually explored oil. As a beginner I received no instruction and eventually became frustrated because I could not create what was in my mind., I decided to study oil painting at Andrea Rushing's San Diego Art Academy in Barrio Logan, San Diego. Under the Master Rushing, I learned the technical skills to capture depth and photo realism. The experience at Master Rushing's art studio inspired me to return to school and pursue a degree in fine arts. I am currently playing with concepts of surrealism.
Veritas-Triumph Together Part 1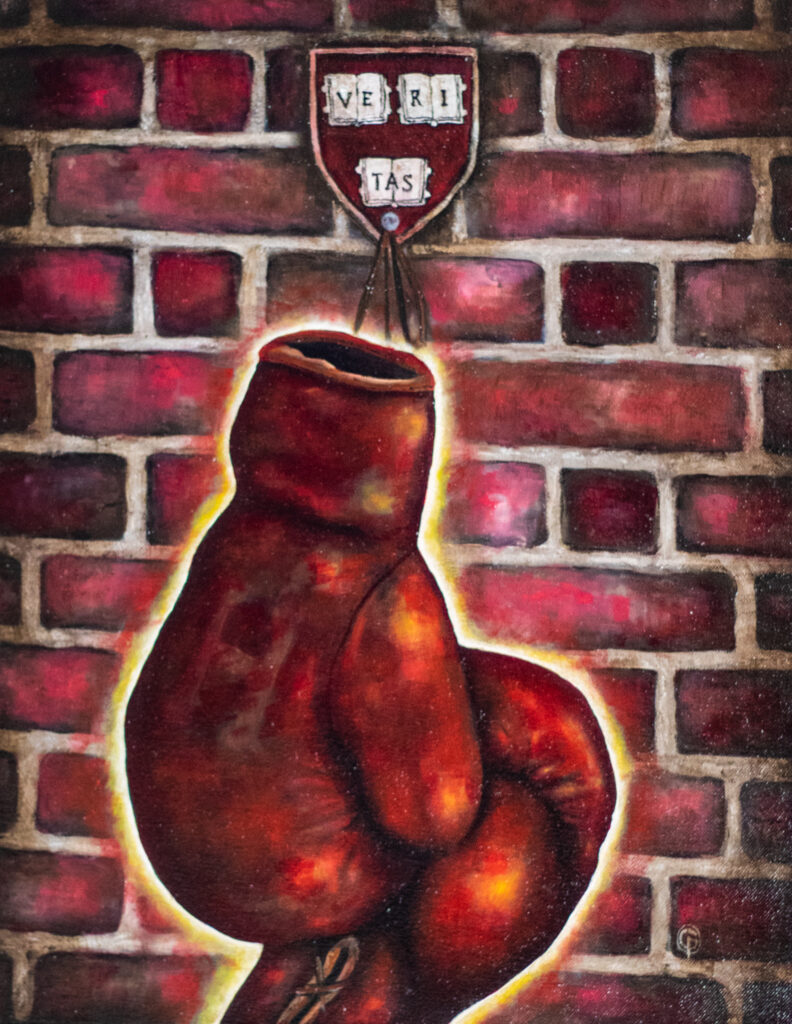 This painting is part of a series I submitted to the Harvard Student Art Collective for the Spring 20′ Show. My goal was to visually express the depth of emotions, history and of culture I have experienced while training with the Harvard Boxing Club. The Harvard bricks are what we see with virtually every building on campus and are a foundation both physically and metaphorically. Our head coach Douglas Yoffe possesses a wealth of wisdom that he shares each practice. Coach's philosophies in boxing and in life are passed on to the team captains, whose leadership gives a support system to all club members balancing mind, body, and spirit. The values of truth are what I have connected to during my time with the club. Veritas.
Selfie Buddha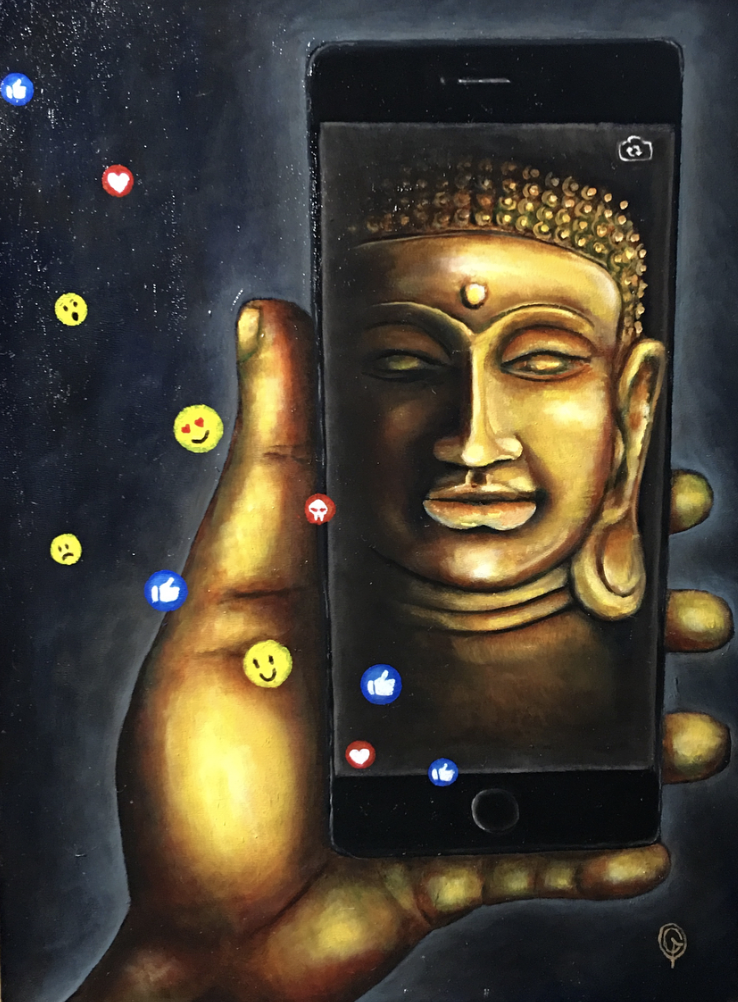 This project was inspired by Nam June Paik's 1974 installation work titled, TV-Buddha. His work reminded me of how our generation is influenced by technology and social media. I created my own version of Paik's work in my style highlighting modern perceptions of self and the relationship to social media. How has technology changed the way we view ourselves?

With this painting I wanted to start a conversation about how our own self image has changed with the influence of technology and social media. How did likes and followers become a form of capital? Isn't it weird that we can buy followers?
Succulent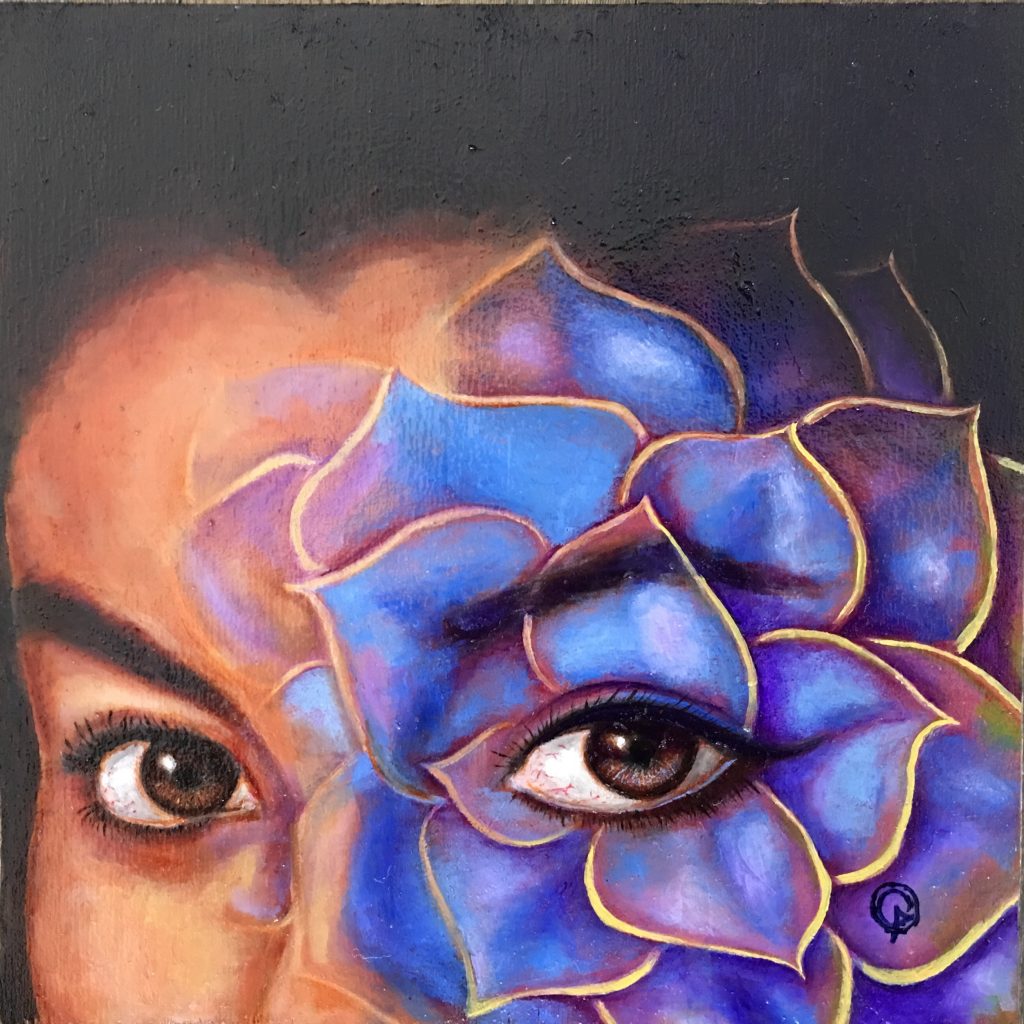 This painting was a gift to my daughter Esperanza for her high school graduation. My goal was to visually represent a succulent flower as a symbol of who she is. I wanted to remind her how strong she is in times that she may feel weak. I accompanied this painting with a poem I wrote for her.

"To retain water, to ensure survival, this flower is strong. It becomes water. You are this flower of water. Be water." -Succulent
Bridge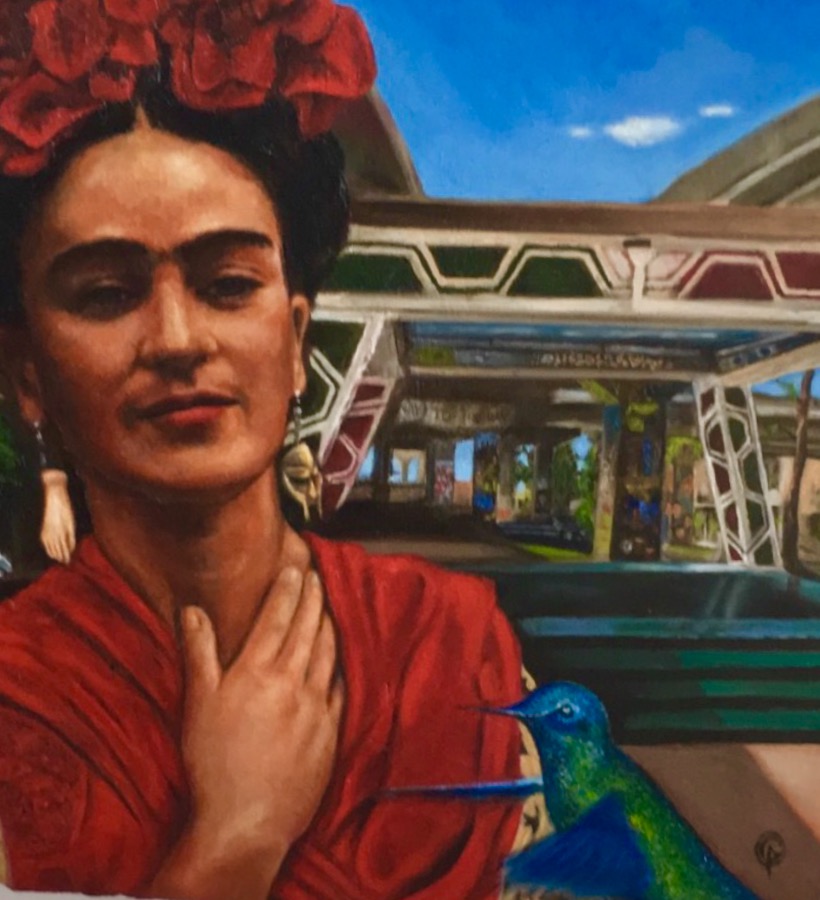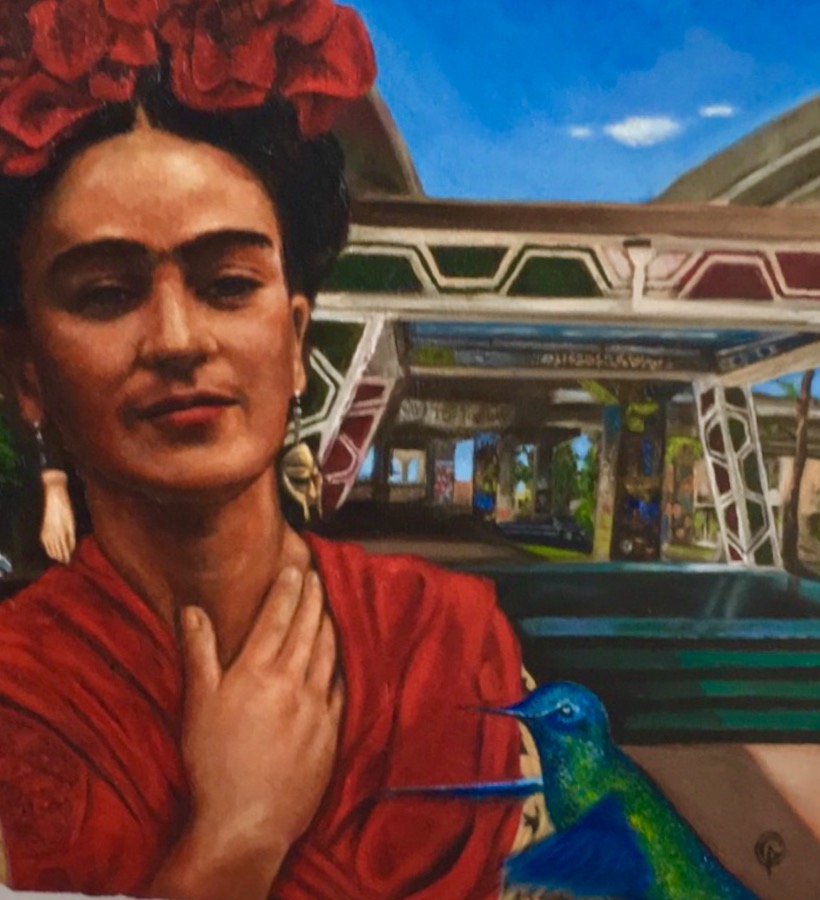 Bridge is a portrait study where I brought a cultural icon, Frida Kahlo to the historic Chicano Park in Barrio Logan. I painted Frida on a piece of redwood found at a scrap yard in Barrio Logan. Frida is visited by a hummingbird while standing in Chicano Park – a place of struggle and activism for the Chicano community in San Diego. This piece represents the Coronado Bridge in the background, and my connection to the barrio both physically and metaphorically.
Be Water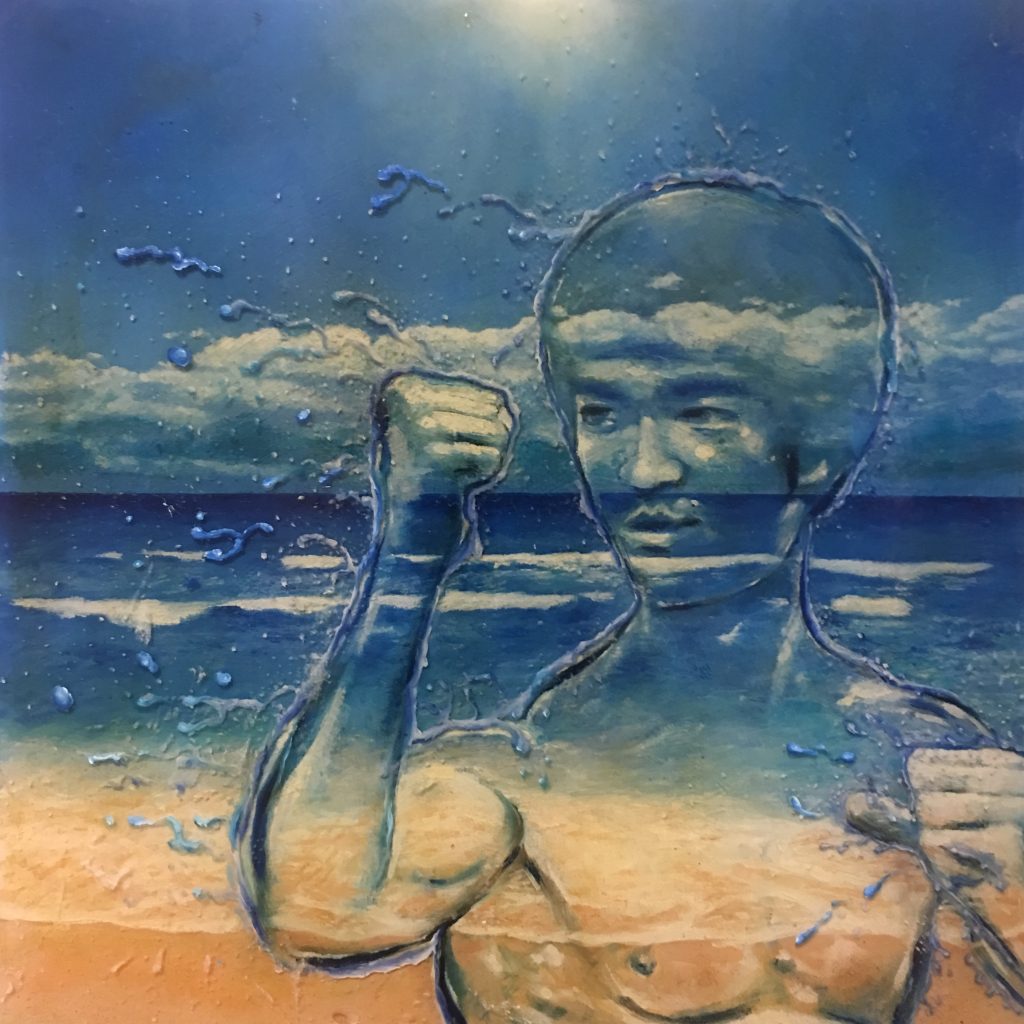 The concept behind this project was based around an interview with Bruce Lee, a Chinese-American martial arts legend, where he speaks of becoming water. I wanted to turn him to water. Technically this was a challenge, because I had no visual reference and had to experiment with techniques to create this surreal image. I used a laying method combining epoxy resin and oils to give the surreal effect of water.

"Empty your mind. Be formless. Like water. You put water into a cup, it becomes the cup. You put water in a bottle, it becomes the bottle. You put water in a teapot, it becomes the teapot. Water can flow or it can crash. Be water my friend."- Bruce Lee
Queso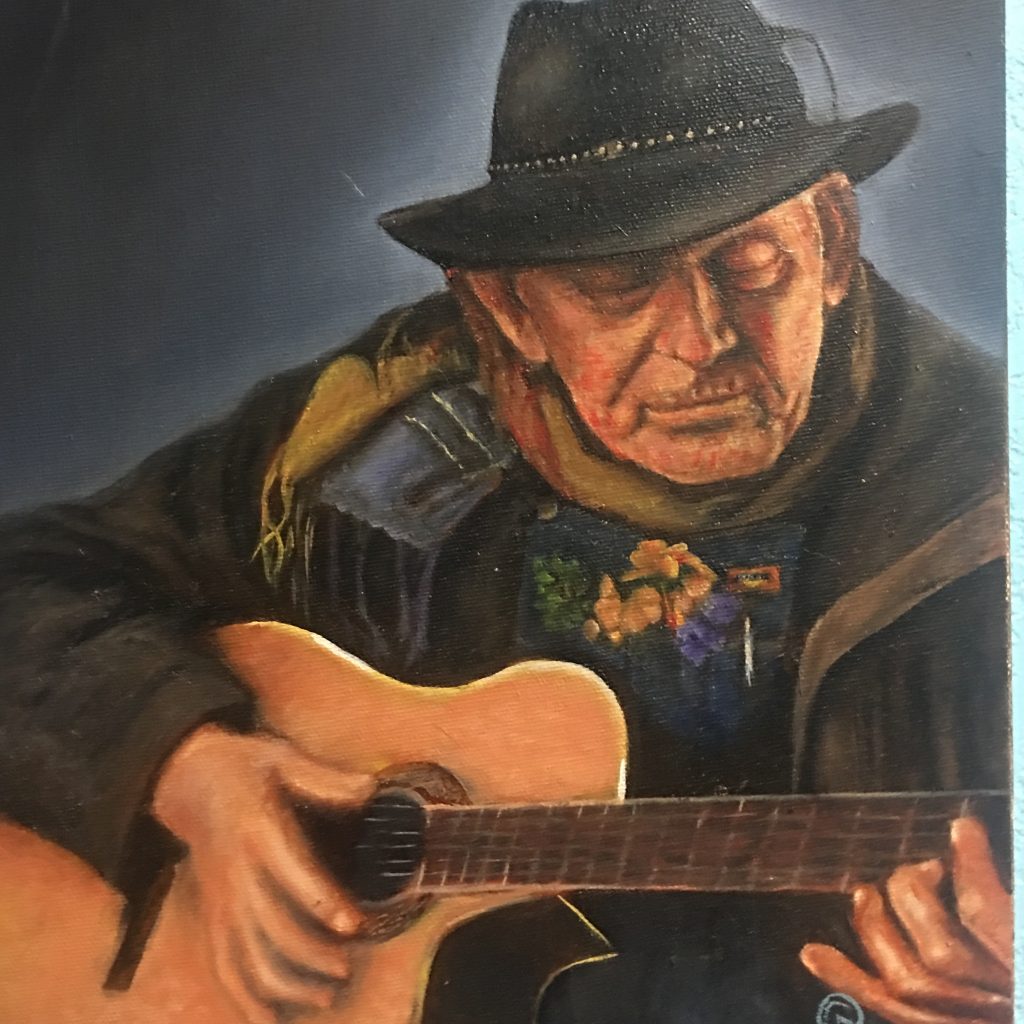 This painting is a portrait of the amazing Chicano Parke muralist "Queso" Salvador Torres as he was singing a story to me about Cesar Chavez at a coffee shop in Barrio Logan.
Chicano Batman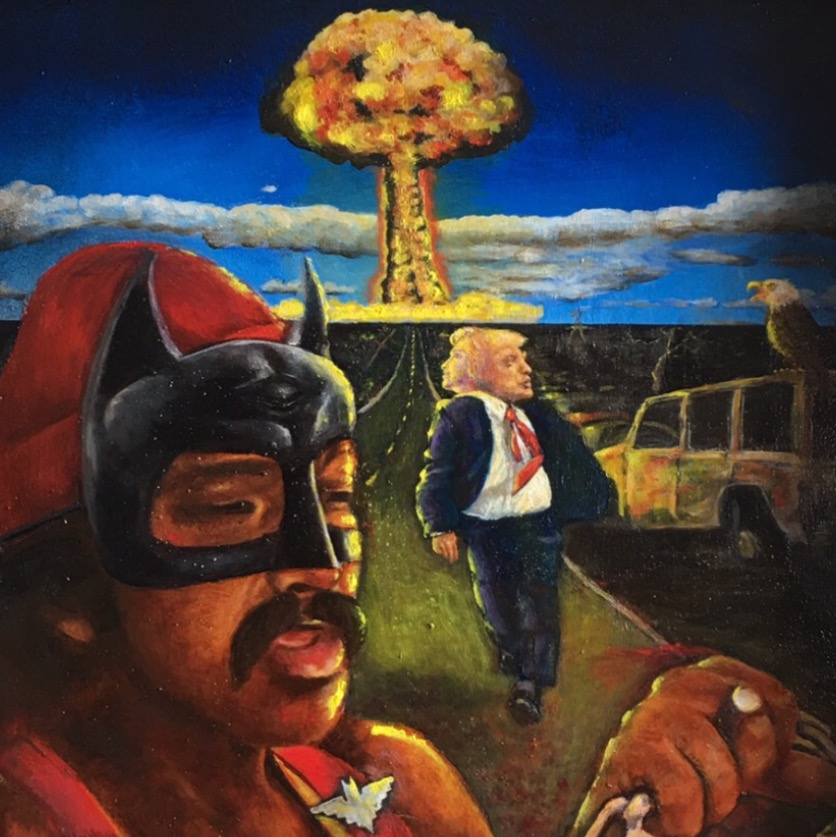 I painted this during the 2016 election for a San Diego Comic Con themed.