If you are born into a cycle of addiction, can you change your trajectory? Sí, se puede
I was two years old playing in the back yard and while no one was watching, I opened the gate and wandered over a half block and crossed Central Avenue, a busy street full of traffic alone. They found me on the other side of the street safe without a care in the world. My Nana would always give me saints or rosary's and said they would protect me, but maybe it was my spirit guides that have protected me. Not just in this moment, but in all of my many brushes with death. I modeled my two year old self after my nephew Jonathan and an old photo of me. A little cholo wearing a bandanna, holding a beer, with a joint in my mouth. It is hard to think that with all of the negative influences of drugs and alcohol growing up, I still made it out alive. With this work, my intention is to share my story with others who come from similar situations in hopes of broadening your perspective of what is possible. Do you have the power to break the cycles of addiction and change your trajectory? In the words of Caesar Chávez and Dólares Huerta,Si se puede!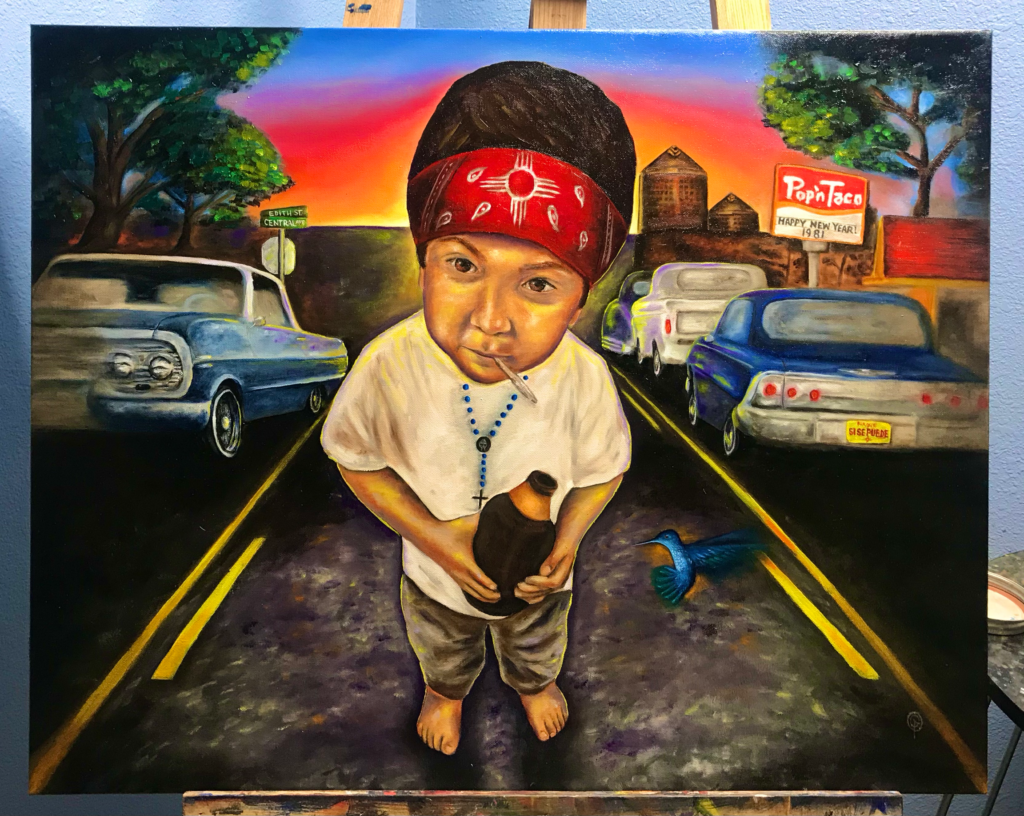 Feliz Navidad
The US Surgeon General recently said the United States is now in an opioid crisis, however New Mexico has been in an opioid crisis for many years. For example, Espanola, New Mexico has been known as the Lowrider Capital of the World, but it also has been known as the heroin capital of the world. This drug culture made its way throughout New Mexico. I was forced to confront the New Mexico drug culture growing up.My early memories of Christmas were wonderful memories. No matter how poor or struggling we were, my parents always made it a special time for my brother and I. That holiday spirit was gone forever, the year my Auntie Sonya overdosed on Christmas. I was 13 or 14, and Auntie Sonya was in her early 20s. She was the youngest of 8 and fell into the cycle of addiction. The year this incident occurred, she had moved out of state, was doing well, and had "got clean". You see, coming home for the holidays, temptation was too strong for her. I found her unresponsive. We threw her in the shower with cold water and ice to try to bring her out of it. Back then, cell phones were not common, and we didn't even have a house phone. I remember running the fastest I had ever ran in my life, a few blocks to the nearest pay phone to call for help. This wasn't the first time, or last time she overdosed. She survived, but the holidays were never the same. I believe this experience saved my life. The trauma was harsh but affected me in positive way, in that it reminded me every time I was offered drugs growing up, to refuse, and break the family curse. This is actually a success story. Auntie Sonya is now clean free from heroin addiction. With family support and gods help, she is working to be a better person, working hard, and mending relationships with her children and grandchildren. She is another good example of never giving up if you are struggling with addiction, and never giving up on family or friends who are strung out. Auntie Sonya was dealt a bad hand in life, but she overcame the odds. She is a living testament of hope and inspiration.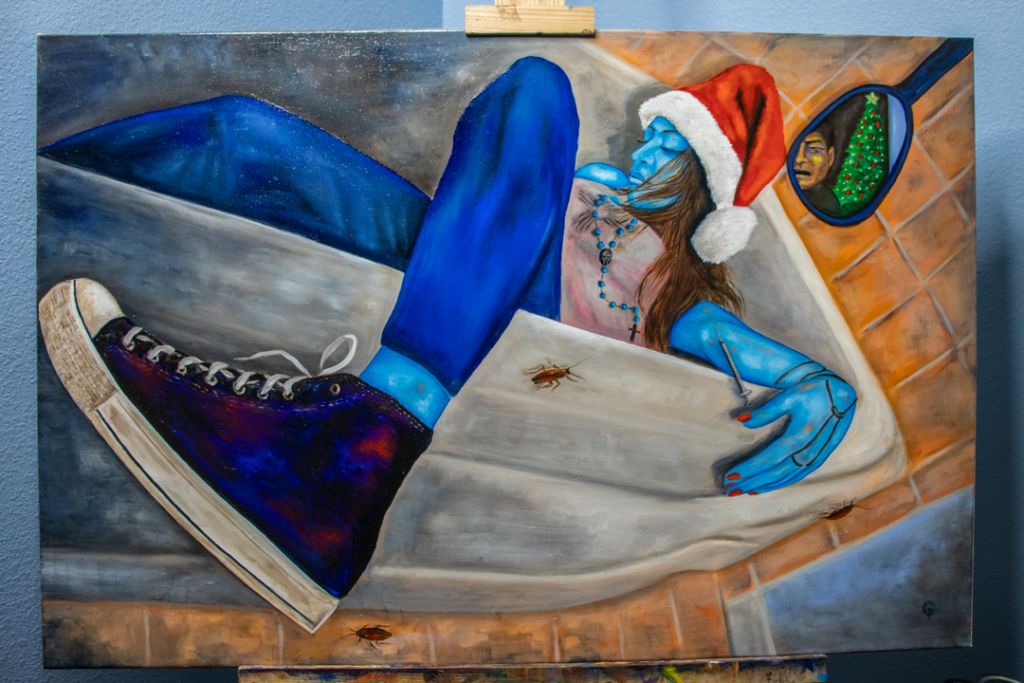 Break the Cycle
My Nana's name is Rose Padilla, then changed to Rose Lovato when she married my Grampa Duvin. They called her Huera, Rosa, or Rosie. She came from a large hardworking New Mexican family of original Spanish settlers. Our Padilla ancestors were recipients of the land grants by New Spain in the 1800's in an area now called "Los Padillas". Rosie was the black sheep of the familia. She was wild and got caught up in selling drugs, and eventually using heroin most of her life. She was the mother of 8 children. After she passed in 2016, I found a black and white mugshot photo of her from the 1970's. She was wearing a giant Afro. According to my mom, during that time, they moved out of New Mexico to Califas. This photo was when they were in Oakland before moving to East LA. I've always wanted to paint this portrait because she reminded me of a chicana Foxy Brown. For this assignment I took advantage of the opportunity. I have attempted to capture her essence and the energy from that time period. She was only five foot tall, but casted a large shadow. She was a badass. A hustler. A gangster. Puro Chingona. She lived a crazy life. I have learned a lot from her growing up. Upon reflection, I realize she instilled in me many of my core values such as truth, kindness, love, family, loyalty, and integrity. She would take care of, and protect everyone around her. My Nana and I had a special connection. Every time she looked at me, her eyes would light up, almost taking her breath away, no matter what age I was. It was like she knew, I was the one that was going to break the cycle of addiction. My Nana is a big part of my story, and learning about her life, has helped me to understand myself. She has given me her energy and power.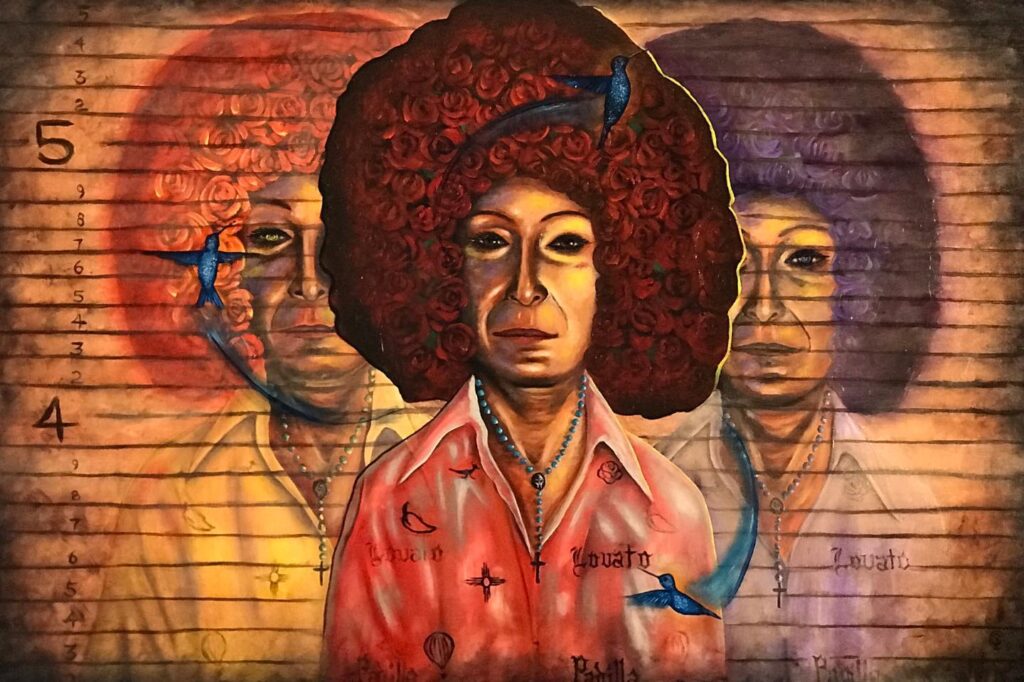 Azteca Eagle Warrior
I have never shared the part of my life when I was caught up gang banging on the streets of Burque in the 1990's. I ran with 18 street, a gang that was originally brought to Burque from Califas in the 1980's. My homeboy Spider was a loco. One of the craziest vatos in the hood. I was afraid of him going up. He was the last person you would think would make it out. Well, he did make it out. He is now a wonderful father (his son recently graduated from high school), artist, entrepreneur, and student (Spider recently graduated college with his Bachelor degree). Spider's brother Chako also has an inspirational story. After making mistakes while gangbanging, which led him to a long prison bid, he gets out and completely turns his life around. He went back to school and now has a successful career. He is an amazing father, husband, brother, and homeowner. He is a true inspiration. They also had a younger brother Issac. Issac is deaf and it wasn't easy for him growing up in the gang culture of Burque. Issac also made it out and is successful in his own right, never letting his hearing disability stop him. Their jefito Jaun Sr. was one of the homies growing up, and always treated me like family. I consider them all, mis hermanos. I was inspired to create a painting as a gift to Spider and the Aguilars for being such a positive influence in my journey. Their story has taught me that anyone can change their lives no matter your circumstances and inspired me to go back to school for art and continue to follow my passion. Juan Aguilar Sr. passed away some years back, and in this work I have attempted to capture his essence. To survive what we have been through on the streets, you had to be a warrior. This is why I have rendered Juan as an Azteca Eagle Warrior, true to the Aguilar roots. He may not be with us, but I know his spirit is part of los carnales de Aguilar success. Sometimes in life we are enlightened by the least likely of people. To the Aguilar familia, I am truly grateful. Amor.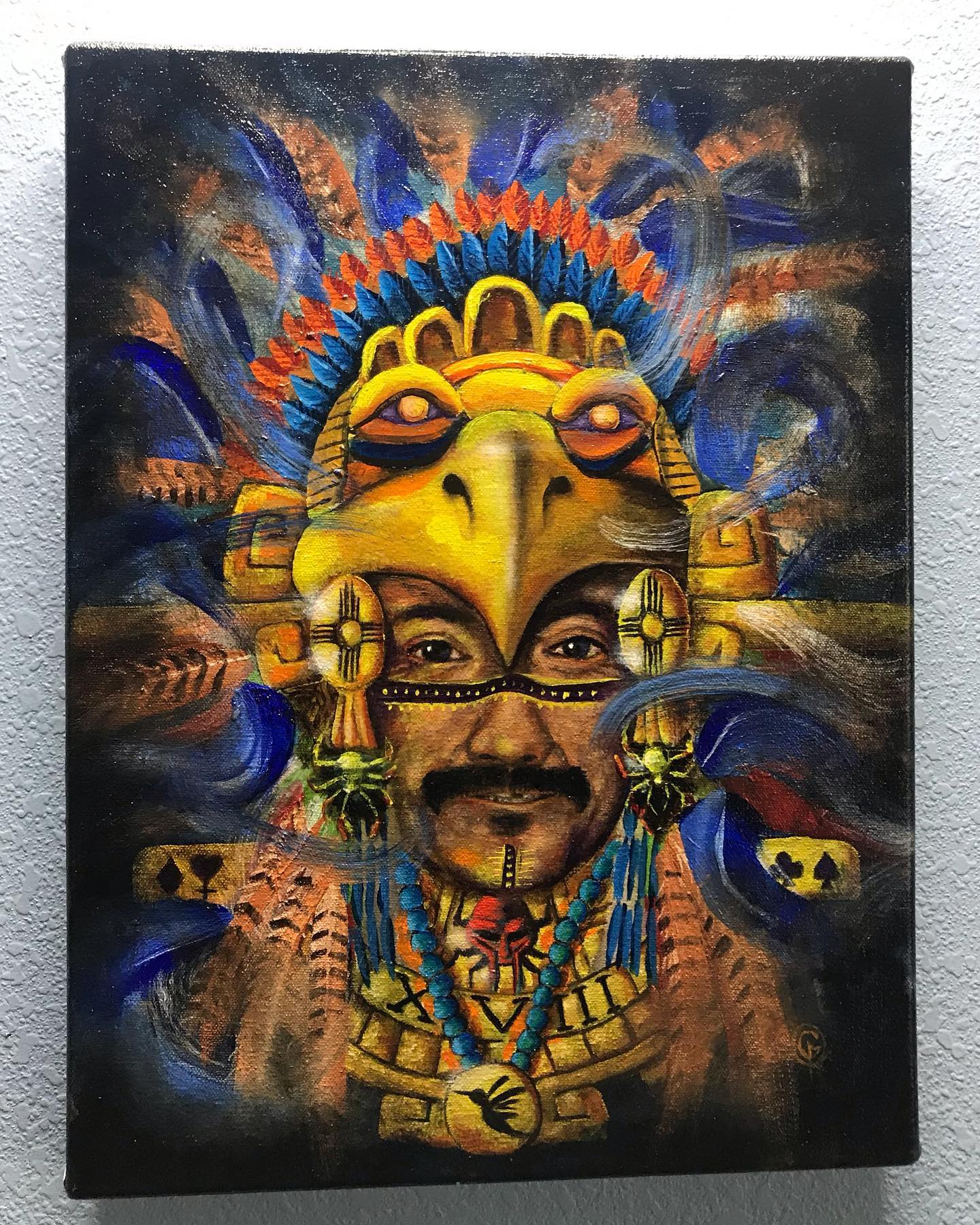 Burque Innocence
Final Project: Narrative Series Titled: Burque InnocenceI approached this project with a story I told at my brother's eulogy. I have wanted to paint this as a gift to my little brother for some time, however I never got a chance before he passed. I had never envisioned it as a three piece series, but the perimeters for this project pushed me to expand on my idea. Professor Taylor talked about tryptic works earlier in the semester, and I decided I would paint something that could be framed in a tryptic box with the two sides on hinges that can be folded inside, to close when not on display, like such works used in New Mexico Catholic Church artwork. I incorporated all technical aspects of what we learned throughout the semester, including color theory, mark making, gesture, underpainting, portraiture, and I also used an unusual prospective (a child's view). Although my work tends to be somewhat surreal, dreamlike, and animated, I attempted to make it feel alive, projecting human energy into it, using my brother's son as a model. The concept for this project tells a story of kids going up in the poor barrios of Albuquerque during the 1980's and 1990's. I feel that many stories about New Mexico have been lost or have not been told. We grew up in a harsh dangerous environment and at at a very young age we were exposed to gangs, drugs, alcohol, sex, and poverty. All of these variables, positive or negative have shaped our identities. These stories need to be told. As I reflect on these memories, I realize that even though the environment was not the ideal life for a kid, we were happy. We found joy in the little things. The New Mexico back drop can also be a dry, harsh, rugged desert; however there is enchanted natural beauty everywhere we sometimes take for granted.This memory has been engrained in my mind since childhood. My brother found this giant bear next to a trash dumpster in a back ally, where we would play outside. He loved this dirty, old, busted bear so much, and was so happy to find it. The bear seemed larger than life, and was bigger than him. The gigantic old dirty bear became our roommate for many years.
Project #4
Project 4: Portraiture from an Unusual PerspectiveI created a portrait of my homeboy Chino, who I grew up with in the Burque Warzone. We were neighbors and friends growing up. Our moms were even friends. Chino and I have similar stories, in that we have struggled our way out of the ghetto; gangs, drugs, and poverty. Chino is the type of person who takes care of everyone around him, he is honest and a man of integrity. "Good People". There has been times when I have mentored him, however he actually has taught me one of the biggest lessons I have learned in life, which is about consistency. I have watched this man grow and become successful in life as an entrepreneur, barber, and actor.
When I analyze his story, I realize that consistency is the key to his success. I chose to capture his essence from the unusual perspective point; looking up at him. It was challenging and I had to also use an unusual size of canvas. I used warm and cool colors to push and pull the viewer as I also tried to make his portrait seem animated and dreamlike. I also incorporated curvismo abstract techniques in the background with night, day, and the storm clouds of his life along. Since we were kids he always owned a nice car, so I incorporated him in his element. His essence is a true inspiration to me and felt compelled to paint him.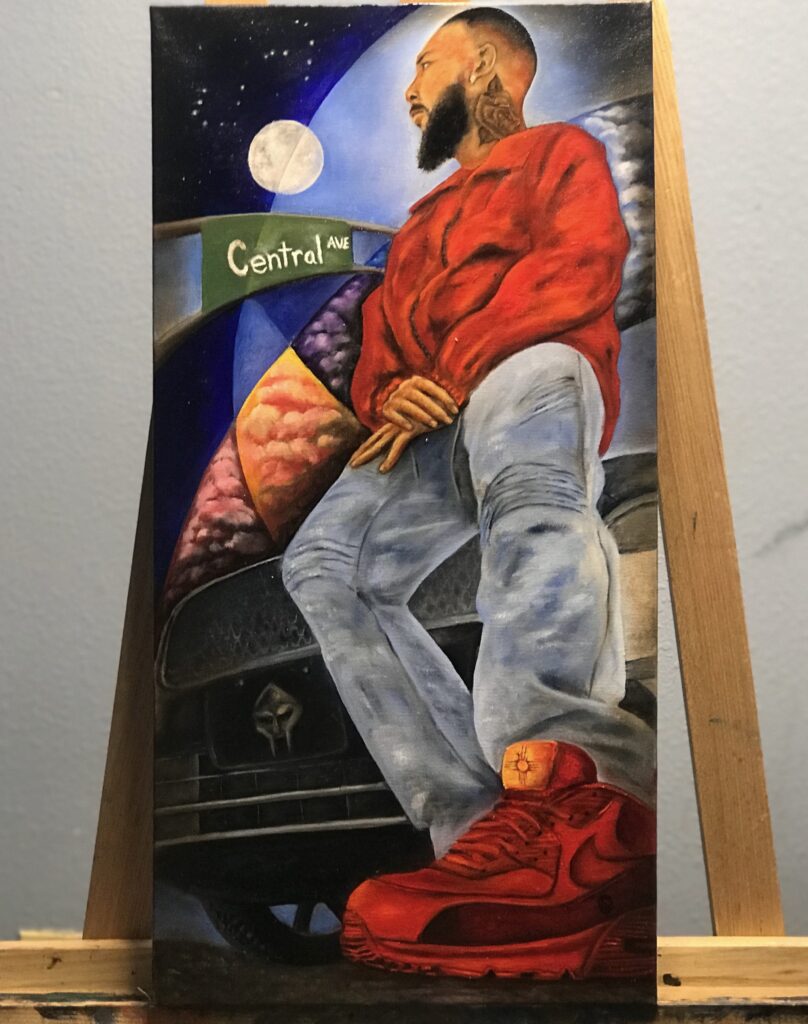 Assignment #4
Assignment 4: Painting from Both Observation and ImaginationI chose to paint my two oldest nephews Nathan and Gabriel. They have had a rough year after losing their father. I wanted to hopefully lift their spirits. They are both good kids with so much potential. I tried to incorporate different stroke styles in multiple layers, paint splatters, palette knife strokes and textures. I also used complimentary colors to enhance the glow of their essence. My goal was to paint them shining their light in a world full of darkness. @ University of New Mexico
Assignment #3
Assignment 3: Painting that feels alive. I dug into my old fight bag and grabbed the only thing we stepped in the cage with when I fought, 4oz gloves and a mouth gaurd and attempted to create a still life that comes alive.
Project #3
Project 3: Figure Painting Without a Live Model The challenge was to create a "model" out of assembled objects and to project human presence onto inanimate objects. I used objects that were right in front of me. I was looking at the objects I noticed my shadow actually projecting human presence. My shadow was the basis of my concept creating this project. I also added abstract elements of curvism and color theory to make the images more compelling to the viewer.
Project #2
Project #2, Plant Gesture with PaintI approached this project challenging myself to put my emotions, style, and energy into it. It was a very emotional experience as I cried throughout and even broke down at one point as I was painting it and I really struggled to finish it. This project softened the blade of a devastating loss and has been helping me to cope as we lay my brother to rest.
Veritas-Triumph Together Part 1
This painting is part of a series I submitted to the Harvard Student Art Collective for the Spring 20′ Show. My goal was to visually express the depth of emotions, history and of culture I have experienced while training with the Harvard Boxing Club. The Harvard bricks are what we see with virtually every building on campus and are a foundation both physically and metaphorically. Our head coach Douglas Yoffe possesses a wealth of wisdom that he shares each practice. Coach's philosophies in boxing and in life are passed on to the team captains, whose leadership gives a support system to all club members balancing mind, body, and spirit. The values of truth are what I have connected to during my time with the club. Veritas.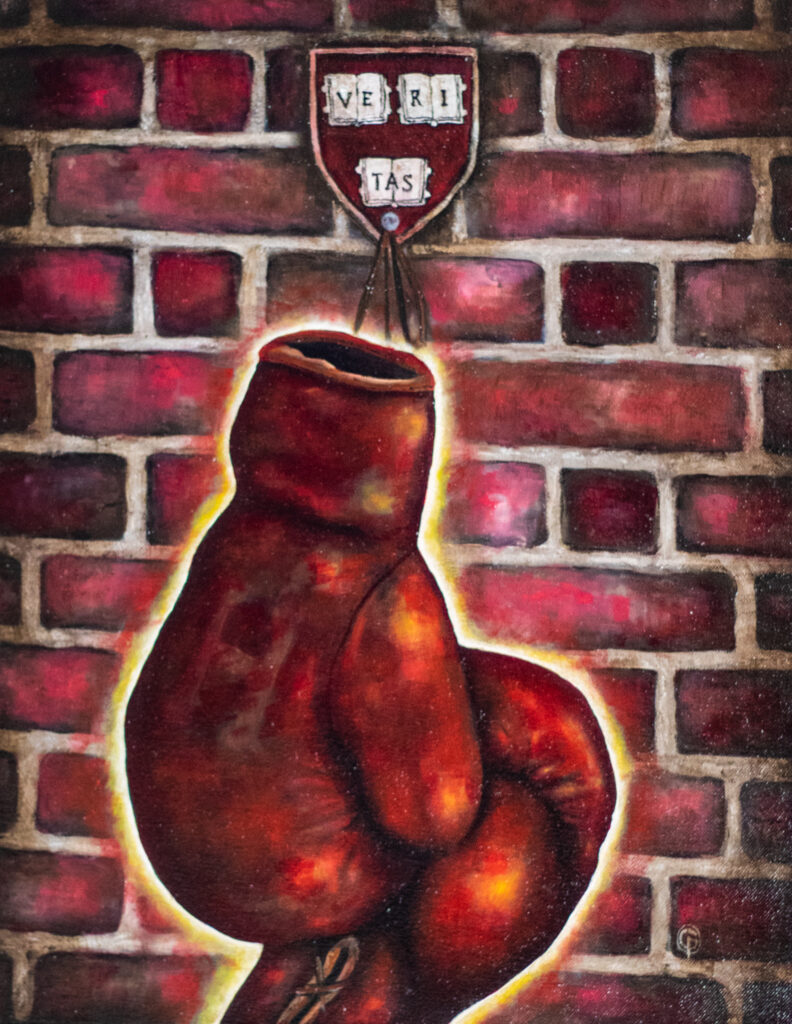 Selfie Buddha
This project was inspired by Nam June Paik's 1974 installation work titled, TV-Buddha. His work reminded me of how our generation is influenced by technology and social media. I created my own version of Paik's work in my style highlighting modern perceptions of self and the relationship to social media. How has technology changed the way we view ourselves?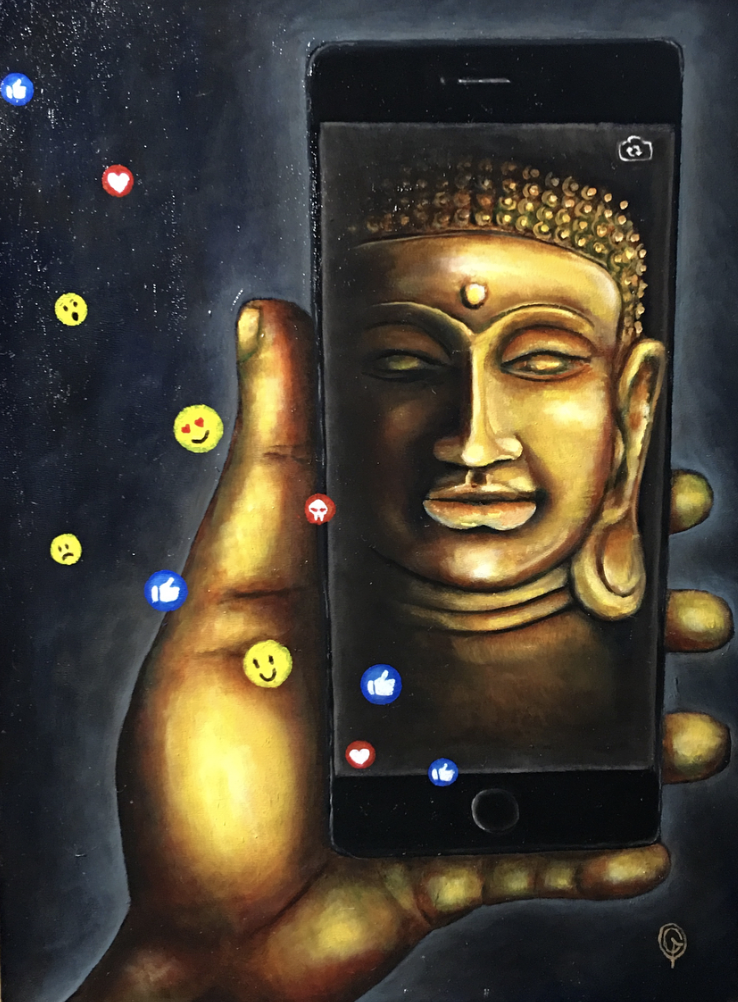 With this painting I wanted to start a conversation about how our own self image has changed with the influence of technology and social media. How did likes and followers become a form of capital? Isn't it weird that we can buy followers?
Succulent
This painting was a gift to my daughter Esperanza for her high school graduation. My goal was to visually represent a succulent flower as a symbol of who she is. I wanted to remind her how strong she is in times that she may feel weak. I accompanied this painting with a poem I wrote for her.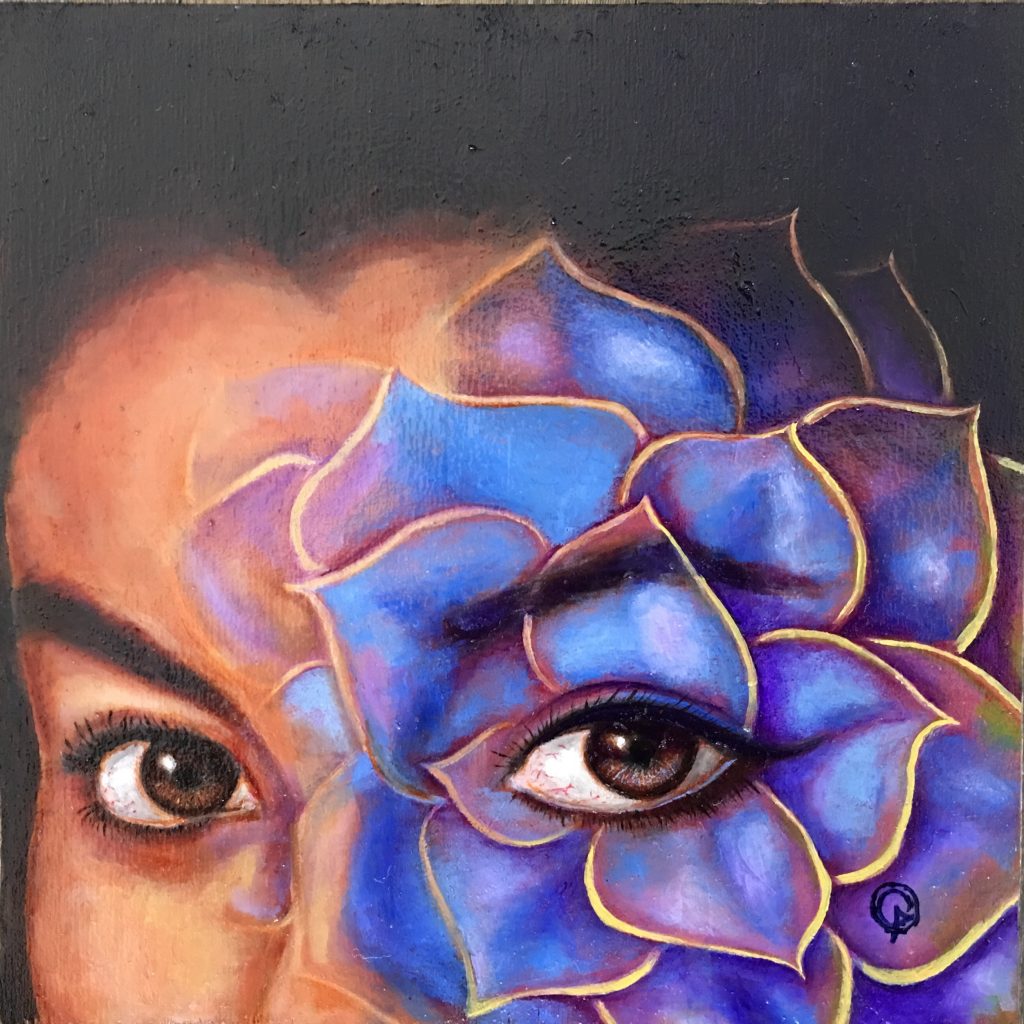 "To retain water, to ensure survival, this flower is strong. It becomes water. You are this flower of water. Be water." -Succulent
Bridge
Bridge is a portrait study where I brought a cultural icon, Frida Kahlo to the historic Chicano Park in Barrio Logan. I painted Frida on a piece of redwood found at a scrap yard in Barrio Logan. Frida is visited by a hummingbird while standing in Chicano Park – a place of struggle and activism for the Chicano community in San Diego. This piece represents the Coronado Bridge in the background, and my connection to the barrio both physically and metaphorically.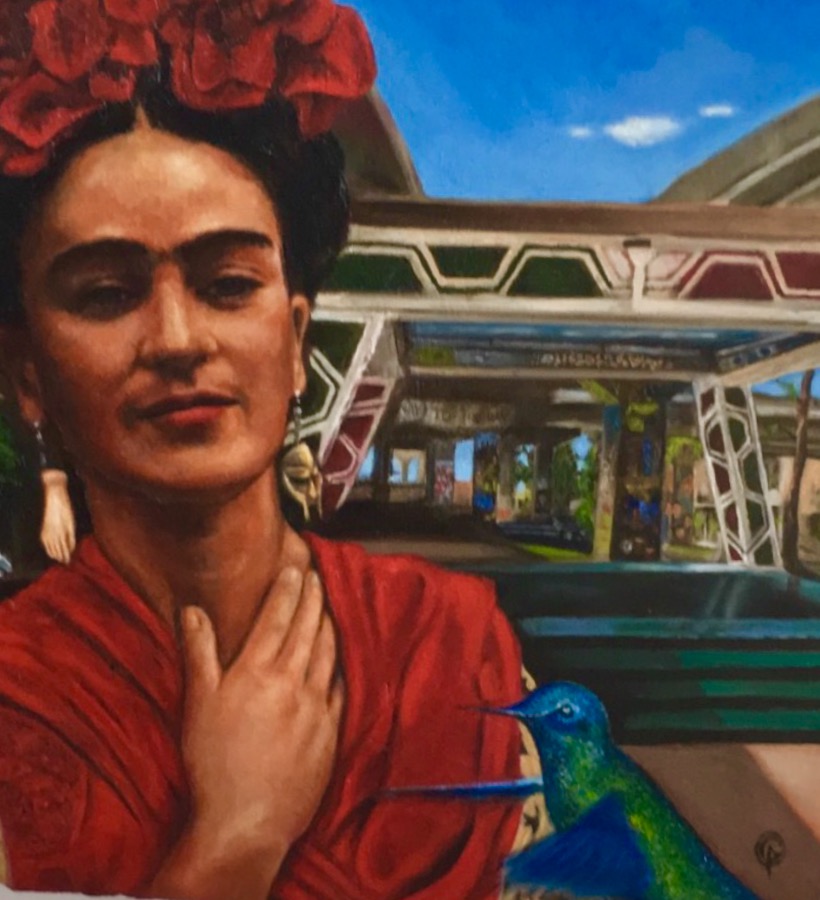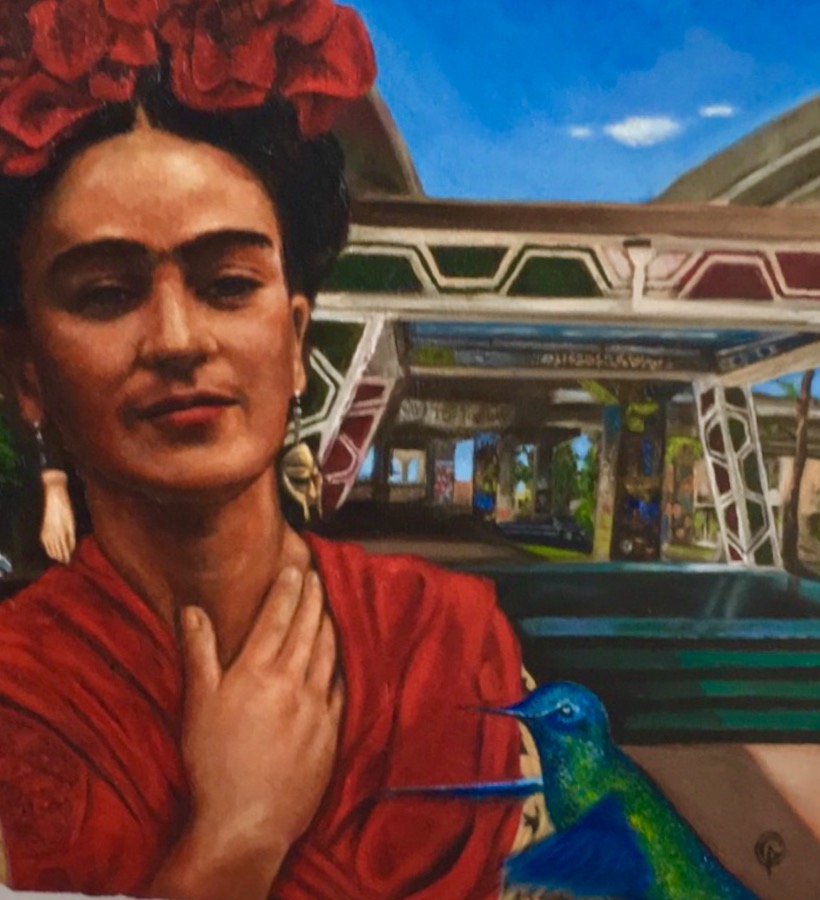 Be Water
The concept behind this project was based around an interview with Bruce Lee, a Chinese-American martial arts legend, where he speaks of becoming water. I wanted to turn him to water. Technically this was a challenge, because I had no visual reference and had to experiment with techniques to create this surreal image. I used a laying method combining epoxy resin and oils to give the surreal effect of water.

"Empty your mind. Be formless. Like water. You put water into a cup, it becomes the cup. You put water in a bottle, it becomes the bottle. You put water in a teapot, it becomes the teapot. Water can flow or it can crash. Be water my friend."- Bruce Lee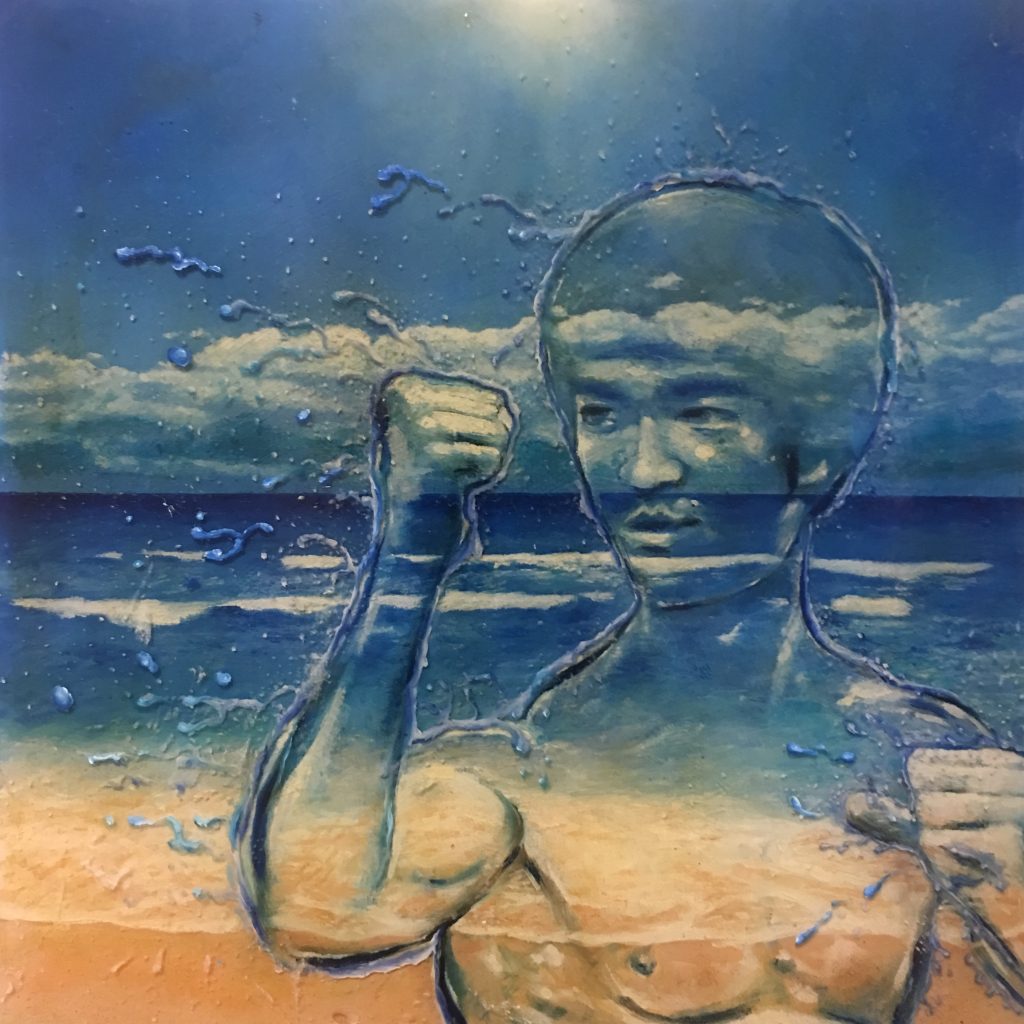 Queso
This painting is a portrait of the amazing Chicano Parke muralist "Queso" Salvador Torres as he was singing a story to me about Cesar Chavez at a coffee shop in Barrio Logan.