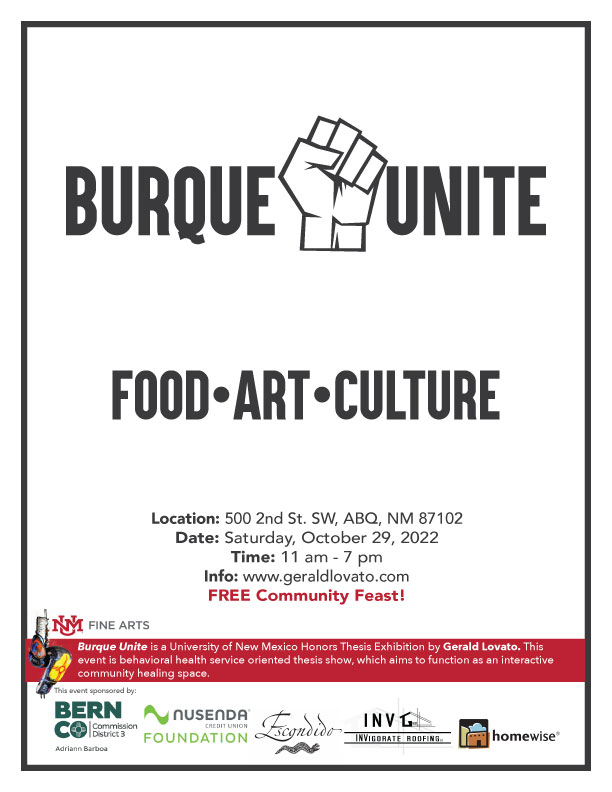 Albuquerque, NM (August 12, 2022) – Homewise is pleased to present Gerald Lovato: Burque Unite, a University of New Mexico Honors Thesis exhibition, and community healing event. The exhibit will be open to the public Saturday, October 29, 2022, from 11:00 am – 7:00 pm at the Community Art Gallery located within the Orpheum Theater at Homewise at 500 2nd St. SW, Albuquerque, NM.
The exhibition will be accompanied by a full day of programming, including a live performance by Lovato which will take place at 11:30 am, followed by an artist talk at 12:30 pm. In addition, free food will be provided during the special Interactive Community Feast (and community forum) which will be held 1:00 – 3:00 pm. The event will conclude with a "Celebration of Life" reception from 3:00 – 7:00 pm. All Burque Unite programming is Free and Open to the Public. Publication to follow.
Lovato's work aims to break the stigma around behavioral health, and posits as a reminder that change, recovery, and violence prevention is possible. The multimedia exhibition and accompanying events aim to be a safe space for community interaction and healing. Using art as a catalyst for creating conversations between youth, adults, and elders throughout Albuquerque. Community members are encouraged to share their stories and participate in Dia de los Muertos altar installation by bringing photos and ofrenda objects for their loved ones.
"Albuquerque is at an all-time high in violence, drug addiction, and suicide post-pandemic and we need healing," states Gerald Lovato, Bachelor of Fine Arts, the University of New Mexico
Gerald Lovato is an Albuquerque native and interdisciplinary artist whose work focuses on the themes of drug addiction, violence, suicide, and mental health. Before studying visual arts, Lovato used martial arts to cope with trauma, which led to a successful 10-year career as a professional mixed martial arts fighter competing nationally and internationally. Lovato now uses visual arts for coping/ healing and works in the mediums of painting, photography, sculpture, electronic art, film, and installation. Each medium provides a different opportunity and invitation for catharsis, both for him and the viewer.
If you have questions about the event please contact geraldlovato78@gmail.com